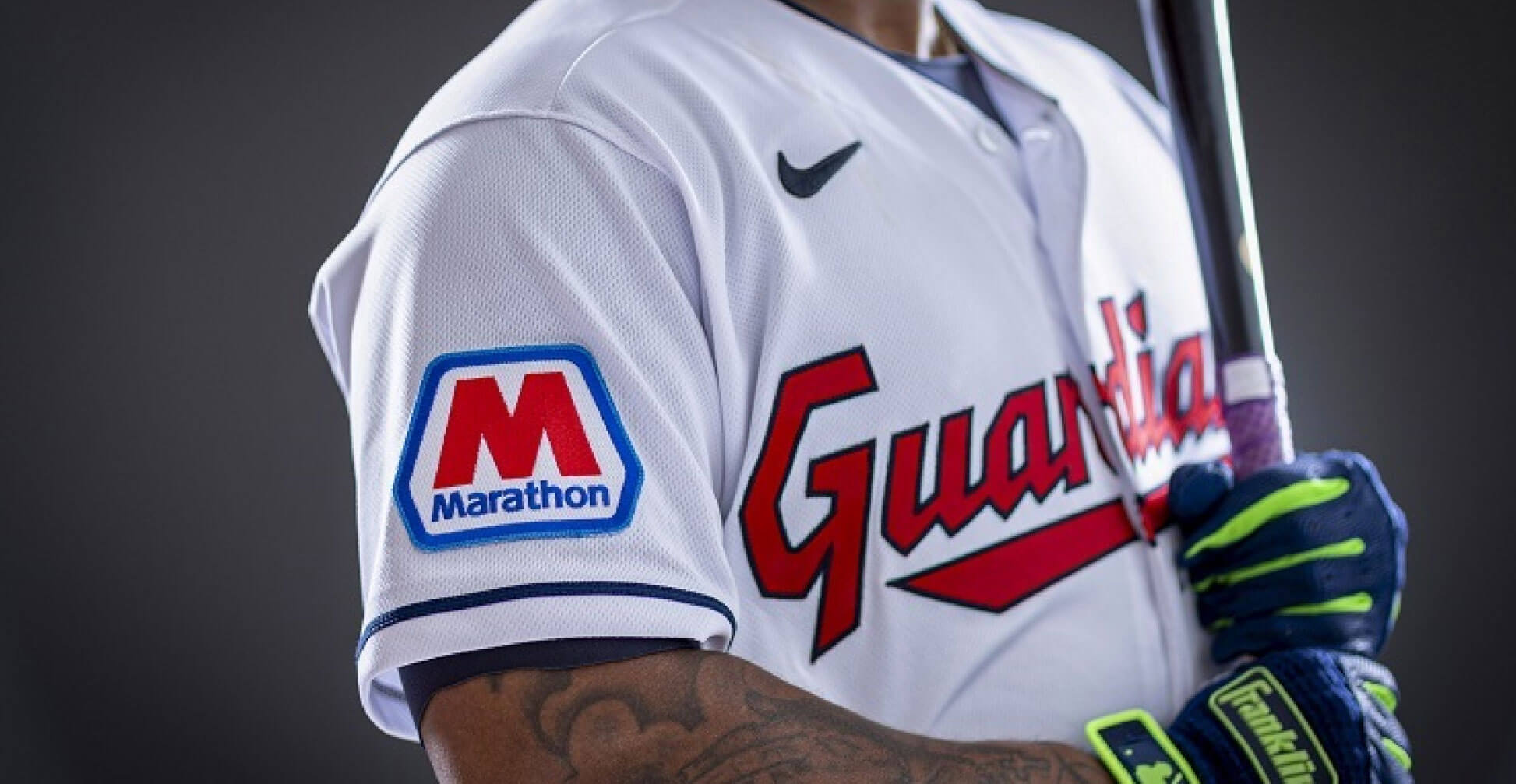 Marathon teams up with Cleveland Guardians as inaugural jersey patch sponsor
07/03/2023 | Sponsorships
Starting July 3, 2023, the Marathon retail brand will be featured on the Cleveland Guardians Major League Baseball (MLB) team jerseys. The new patch, featuring Marathon's Endurance logo, will be on the sleeve of the Guardians jerseys through the end of the 2026 season.
Marathon's new Endurance logo will also be featured on the first-base side of Progressive Field and the continuation of home plate signage. Marathon has been a corporate partner of the Cleveland Guardians since 2021.
"With our Ohio roots and just over a decade separating our foundings, we think it's fitting to be the Cleveland Guardians inaugural jersey patch sponsor," said Marathon's Senior Vice President of Global Clean Products Brian Partee. "While we can both be proud of our past, it's the future we're most excited about, including this partnership. As a bonus, many of our employees and customers are generational and passionate fans of the celebrated ball club."
While the team is Ohio-based, the Endurance logo will be seen across all MLB markets as the team travels the country, aligning with Marathon brand's national sponsorship strategy.
"We look forward to expanding our relationship with Marathon as our inaugural jersey patch partner," said Cleveland Guardians President of Business Brian Barren. "When we started to look for a partner to don on our jersey, we knew we wanted an Ohio-based brand that was recognizable to our fans and had been a part of the Northeast Ohio community for as long, if not longer than we have. Marathon checked all those boxes, putting down Ohio roots as far back as 1887, and we look forward to partnering with them in our community and with our fans for years to come."
The Cleveland Guardians become the 12th Major League Baseball (MLB) team to acquire a jersey patch, joining:
Atlanta Braves
St. Louis Cardinals
San Diego Padres
Detroit Tigers
New York Mets
Arizona Diamondbacks
Boston Red Sox
Miami Marlins
Los Angeles Angels
Cincinnati Reds
Houston Astros
Cleveland Guardians